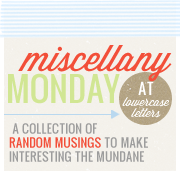 So happy to be able to link up with
Carissa
today!
#1
- I've said it before, but I can't help from repeating... Texas is
HOT
. Sweaty, stinky, nasty
HOT
. I'm still proud to be a
Texan
, though.
#2
- Pet birds are not my thing. There are times when it is pretty neat but other times when it's not (Like when you are watching a movie and they want attention so they squawk louder than the volume on the tube.) I think it must be like a grandchild... you know, love to care for them for a short period but then you can give them back.
#3
- Watching a storm come in on the lake is a lot different. The way the clouds build up and the lightning seems to go from God to the water is a sight to behold. To watch the rain come at you like a freight train is just... well...
COOL
. As long as you are safe indoors.
#4
- I have missed my ever-so-sweet blogging friends. It's
amazing
to have people praying for you that you have never actually met. To have their encouraging words and thoughtful insight is a blessing I won't ever take for granted.
#5
- Night lights are becoming a huge "like" for me. In this home there are unique lamps, lighted vases, and little nooks with overhead beams that sparkle through the dark. So soothing. Like a lighthouse for the sailor.
Don't forget to hop on over and visit Carissa and some of her friends for a bit of
miscellany
.
Have a blessed day y'all!