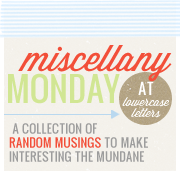 Linking up with Carissa today...
1)
Has anybody seen "
Waiting for Superman
"? It is a documentary about the failing public school system. Sound boring? It wasn't. It was actually scary. By the time the movie was over, I was sad, angry, appalled. You just can't imagine what innercity schools go through.
I know that a large # of you bloggers out there are homeschool moms and I commend you. It just wasn't for me. I believe I would be in a hospital somewhere by now. My family agrees. (Not sure how terrible that actually is... denial.)
The movie is worth watching. If you have never heard of
Geoffrey Canada
or David Levin & Michael Feinburg, you simply must check this out. It is amazing what they have done for public education and yet, baffling trying to figure out why it is so hard for the rest of America to do the same.
One part of the movie I wish I could quote was about bad teachers in New York somewhere. They get sent to what is known as "the rubber room" because since they have attained tenure, they can't be fired. While these 600 teachers are there for up to 3 years, they play cards, sleep, read, etc. AND get paid their full salary!!!!!!!!!!! Oh, America...
2) Last week we had some baby calves in the pasture next door. They have been bottle fed by the neighbors and are just the cutest things. To have them run up to you (hoping you are hiding a bottle somewhere), with their baby mooing and licking the air with their LONG black tongues... well, it is one of those times when you are thankful for God's creations.
3)
Finally, I have a few softball pics to share that were taken by another mom. This is where we have been spending our time, for the most part.
That's my big girl at 1st base.
After a huge tournament championship.
(My mgr. girlies are on the far left of 1st and 2nd rows.)
Tourney Champs again
(2nd and 3rd on back row)
Hope you all have a great Monday!