What is it about Monday that makes it so, well, Monday?
Linking up with
Carissa
to share some Miscellany...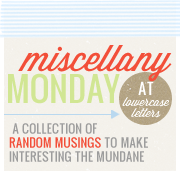 1)
After some storming overnight, the weather is really beautiful today. A little extra wind but that just reminds me of Oklahoma.
2)
Today marks the
eighth
month that we have been without a job. Eight months of living with the in-laws. We are so very tired. We try to stay positive but each day that passes makes it
more difficult.
3)
Went to a wonderful softball tournament this weekend. We won, so of course that made it all better. Played against the hosting team and it was a nail biter.
Too much fun!
4)
Teens and attitudes.
Yuk.
Let me say it again just to feel better...
Yuk.
Actually this whole experience has been neat in the way that I see the girls more often BUT they are beginning to get on each other's nerves. And that gets on mine. If you have or have had teens, any advice would be appreciated!