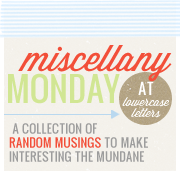 1)
So glad the
winter weather
is gone. Like being home with the family but sometimes things happen. This go-round the oldest lost her cell phone... at a snowball fight with about 20 kids... at a park about the size of a football field. So much fun spending hours on end with
wet cold feet
. Plus side? Phone found, still on, not even wet. Only God.
2)
More snow headed our way. Cell phone will stay in the car.
3)
Watched a donkey and a border collie playing while I ate lunch. We have never been around so many donkeys in our lives. They are
everywhere
. Cute when they are newborns, though. Lots of "fuzz". Loud when they grow up.
4)
Beth issued a
challenge
today to go the rest of the day without criticizing or complaining. Ugh. Not one of my strong points. I think God must of told her to do that. I just know it!
Link up with

Carissa

and post your miscellaneous thoughts today.