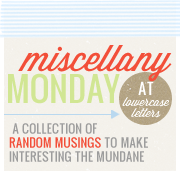 Linking up with Carissa to share some miscellany.
1)
POD 2 is packed. Everything didn't fit. U-Haul trailer will arrive tomorrow. Grrr.
2)
My body is so sore and tired! Hopefully sleep will come easily. Lots more to pack up and clean up tomorrow.
3) When moving, always get 4x the amount of paper you think you will need.
4) Loved the questions for God that everyone posted on my blog yesterday!
5) This will be my last post on a somewhat regular basis for a bit. At least I think. I don't know what kind of service we will have at the in-laws (out in the boonies). Might be surprised. Hopefully!
Love getting your comments and I will do my best to keep up with everyone in the "interim".
Bless you all and thank you for your prayers!