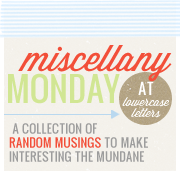 Linking up with Carissa again this Monday :-)
1)
Forgot to take pictures on
Father's Day
. Hate it when that happens! So, here's my answer:
This is
who sat in
and opened
(more on these another day)
But the favorite one
might have been
3)
Disappointed again in
Design Star
this week. Nobody is standing out just yet. We are having a hard time finding someone to cheer for. Tera was a Southern gal but she's history. Now who will it be? Hmmm.
4)

Having to pack away some of my faves...