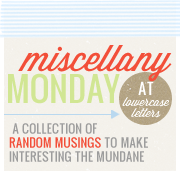 I am linking up with Carissa because... well... she is one of my BBF's (best blog friend).
1)
The moving boxes are late. Actually, Hubby and I had a little miscommunication. They are due to arrive today. Good thing. The clutter is bringing me
d
o
w
n
.
2)
We've been hearing our neighbors on each side enjoy their
pools
. At what point does it become
pool envy
?
3)
Watched the premier of "Design Star" last night with the whole family. Pretty disappointed in the white box challenge. However, this room was our favorite this season:
Tera Hampton's room
Dan Vickery's box from Season 4
(our all-time fave)
Todd Davis' box from Season 2
(our most creative vote)






4)

We are needing to make a list of our creature comforts that we want to make sure and not pack in the POD. Excluding the obvious such as your bible and toiletries, what would be your

Top 5

?