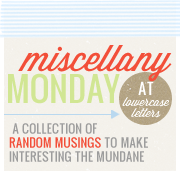 I am linking up with Carissa today because I love her miscellany monday posts.
1. Miscellaneous is how my brain works most of the time. In a spaghetti bowl. Anybody ever read Men Are Like Waffles Women Are Like Spaghetti? If you haven't and you struggle sometimes communicating with your man... go and get it. It will ring true with you but most importantly, it will help your man understand why he doesn't understand you. :-)
2. Getting to do some scrapbooking this week. Actually got those excited chills when I went shopping for some paper and stickers. THOSE 2 THINGS MAKE ME HAPPY!
3. Today is my last day of freedom. I guess I should look at it as my last day to be alone. School is done. The girls will be home. Summer is here.
4. Fixin' (Yes, I am a Texan) to go try a new yogurt place with the girls as a treat for the last day. First to buy them a new book and then some Peach Wave yogurt. Sounds yummy doesn't it?!
5. I figured out that we only have 2 more Sundays with

"our Andy"

. At what point can I begin to mourn our loss?
Yes, this is how random I usually am on a daily basis. This is a good fit for me.